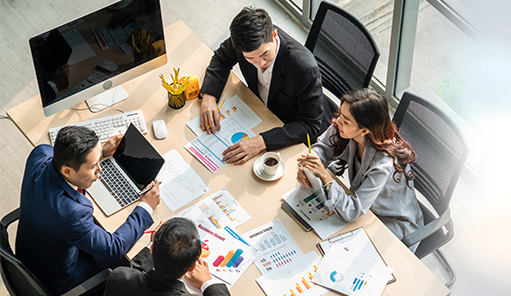 The freedom to work remotely, cross-border, skew this topic further, by shining light on the visible inequities between pay norms around the world.
The Impact of Expat Dominance on Local Talent
A major European FMCG company recently revealed an Asia-Pac budget forecast where 70% of the Personnel budget was spent on 7% of employees. Expat employees. By their own admission, this has led to some difficult internal discussions. After all, word gets round, people ask questions and ultimately, reverse migration occurs, alongside brain drain as local talent leaves in search of better pay and more opportunities to break through the so-called expat glass ceiling.
Organisations are increasingly being forced to ask themselves tough questions about the sustainability of their international people operations, including social sustainability. We found a great self-diagnostic scorecard to help you judge where your organisation currently sits in this regard. This will help you determine where you'd like to go next.
Addressing the Expat vs. Local Pay Divide: Hints and Tips
You need to locate your skills and experience where it's most needed, as well as developing international talent through overseas assignments. That's completely fine, understanding, of course that it comes at a cost in terms of salary and benefits.
At the same time, expat salaries, allowances and benefits don't need to be open-ended. Setting clear time limits before either localisation, repatriation or onward assignment can help avoid difficult conversations.
Plan ahead – a role may currently be filled by an expat staff member, but how can you source or develop local staff to fill that role in future? What will it take in terms of learning and development to make that happen?
Many organisations set expat staff members the clear target of identifying and developing a local successor – have you tried this, and if not, have you asked yourself why not?
It might help to have a senior executive supporting your efforts in this regard, especially if dealing with local market Managing Directors and business leaders who may resist outside interference in their internal business decisions. Consider who your business allies could be.
Exceptions may happen. After all, not every case is the same – but that doesn't mean you can't agree on a general direction of travel.
Make sure that you engage in a meaningful discussion with your local staff, as openly and transparently as possible. Try to ensure that they understand the career development and learning opportunities open to them.
While executive pay norms are relatively consistent around the world, as middle management capabilities grow, and local education levels rise in lower income economies – where the pay gap is often widest – an organisation can reduce excessive reliance on expatriate experts.
Expats can bring vital skillsets and experience. But local staff can also bring these skills, alongside cultural fluency and local market expertise. The trick is to find the balance that works best for you.
With a hands-on, 360° approach, we get into the finer details of your relocations, so we can help you find the right balance for your global workforce. From consultancy to tailor-made solutions, we support your HR team to find the best way to move employees around the world, without annoying anyone anywhere.
If you'd like to discuss how to strike the right balance within your own organisation, contact us.